Sustainable priorities
Novozymes' growth and long-term success are influenced by developments around the world, and how we perceive these changes impacting our business.  The materiality matrix reflects the importance of those issues to our key stakeholders versus their impact on Novozymes, and it is used to guide our priorities for both our strategy and our reporting.

As a responsible corporate citizen, Novozymes continuously strive to strengthen our governance and management of these material issues. We have external targets/flagship initiatives for many of our material issues.
Our materiality assessment process
Novozymes' materiality assessment is a systematic and rigorous process that has been aligned with the principles of double materiality. It allows us both to evaluate whether Novozymes has an impact on the environment and society and to identify how environmental, social, and governance (ESG) issues affect the creation of long-term value. We have established a two-step process comprising a comprehensive assessment every three years and a light-assessment or refresh every year. The process integrates input from external stakeholders, trend analyses and internal engagement with relevant departments including Investor Relations, Risk Management & Controls, Quality, Sustainability, and our commercial divisions. This process results in a materiality matrix of economic and ESG issues.
The matrix reflects the importance of those issues to our key stakeholders versus their impact on Novozymes, and it is used to guide our strategy and reporting.  
Identification
We compile a comprehensive list of relevant trends and ESG issues by studying expert reports on global trends (Global Risk Report by the World Economic Forum, State of Green Business by Greenbiz, etc.), investor and customer questionnaires and peer analyses

Prioritization
We engage in dialogue with relevant internal stakeholders from different functions, including Investor Relations, Corporate Sustainability, Corporate Strategy, Public Affairs, Risk Management and business divisions, to prioritize trends and ESG issues and understand how they evolve every year

Validation
We compare the trends and ESG issues that come up in Prioritization with priority themes highlighted by key ESG rating agencies and recalibrate those with relevant stakeholders, including leaders from different functions. This results in a final list of material issues that go into our materiality matrix.

Disclosure
We disclose our performance in relation to key material issues in our annual report. The primary audience for these assessments and disclosures is Novozymes' investors, customers and employees.

Our Materiality matrix in 2022
As a result of the materiality assessment performed in 2022, no new issues were added to our materiality matrix.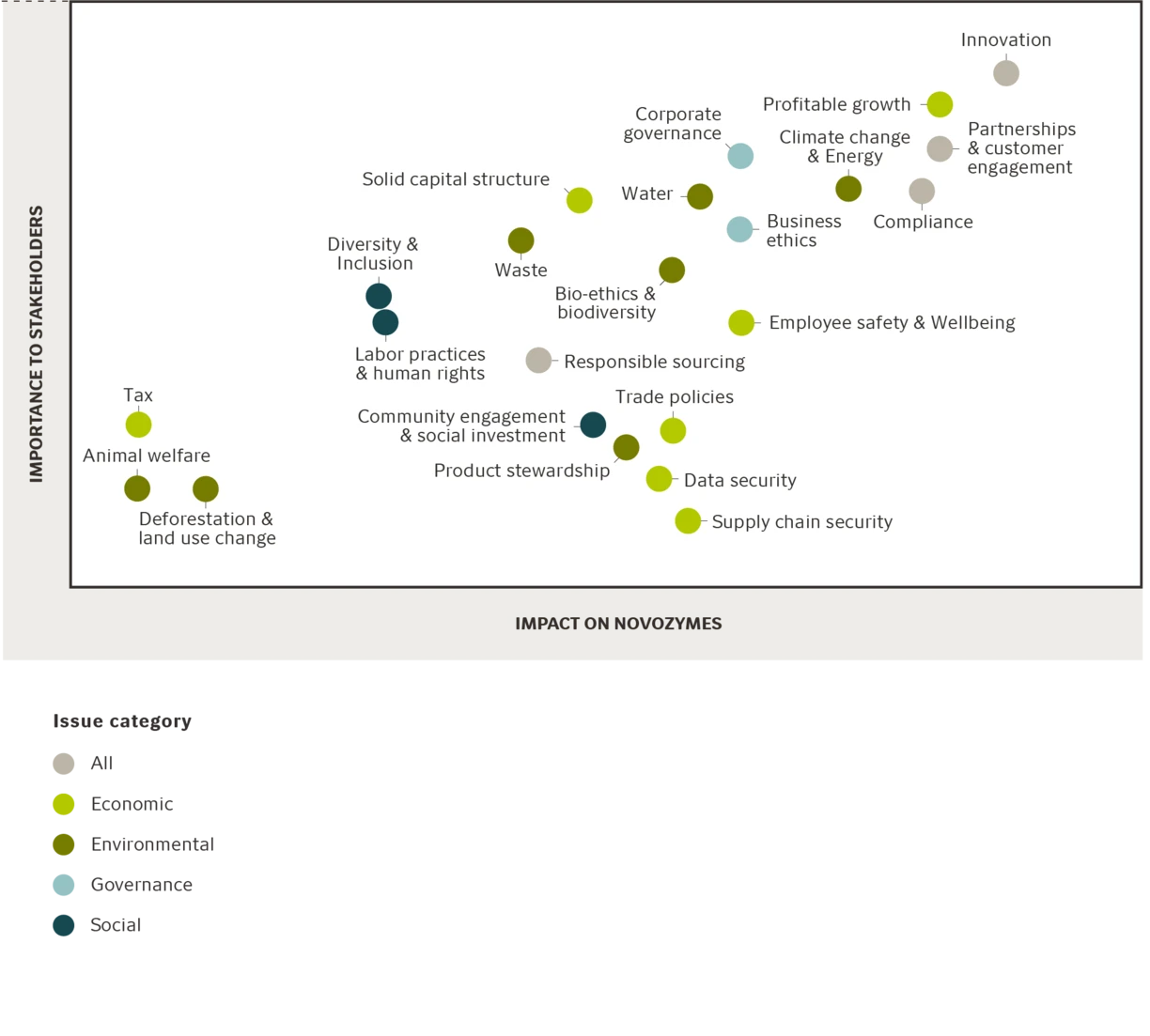 Get in touch with 
our news team