24.06.21 | Corporate
Bringing the power to stop climate change to consumers' hands
As the vast American cleaning industry announces its intention to reach net zero global emissions by 2050, Novozymes and its customers, like progressive detergent manufacturer, Dirty Labs, are playing a crucial role in improving the environmental performance of cleaning products.
June 24, 2021 – Improving performance across more than 40 different industries while preserving the planet's resources and building better lives, bioinnovation contributes significantly to meeting environmental targets that are necessary to achieve a sustainable future. Some of the world's most advanced biotechnology enables products like washing detergents to be greener and more effective at lower temperature, while being free from petroleum derivatives and other chemicals that are harmful for the environment. This means advanced cleaning performance, better safety for consumers and the environment, and significant savings in energy required for laundry.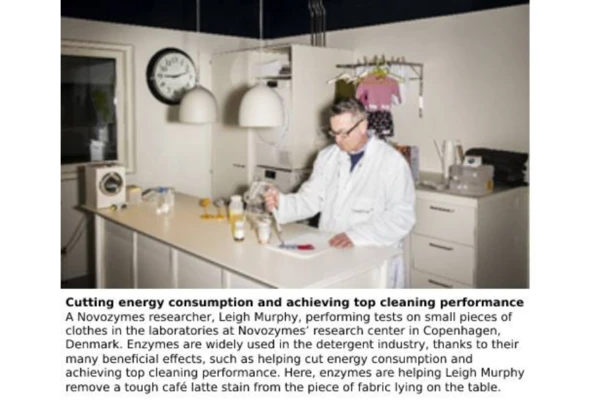 "With the threat of climate change driving us forward, we are determined to do even more for the environment and for the millions of consumers who want to contribute to a better future," says Arnaud Melin, Novozymes' Vice President for Consumer Biosolutions, Americas. "Novozymes is building on a solid history of providing innovative biosolutions with new and exciting partnerships with forward-looking household care customers, like Dirty Labs."
For decades, Novozymes has researched and developed a steady stream of new, innovative enzymes that have drastically improved the environmental profile of household cleaning products over the years and on a global scale. Recently, Novozymes also made available a CO2-calculator that highlights the emissions savings possible from using enzymes as opposed to traditional, oil-derived chemistry.
"Doing the laundry" together: Novozymes' partnership with Dirty Labs
Dirty Labs – a U.S.-based cleaning innovations lab founded to take the "dirty" out of cleaning – wanted to develop a novel, bio laundry detergent that is not based on petroleum derivatives. They recognized the potential of using enzymes and other biotechnologies to deliver superior cleaning performance, unprecedented levels of safety, and minimal disruption to ecosystems. Discovering obvious synergies, a partnership evolved that has now delivered a highperformance laundry solution developed with Novozymes' most advanced detergent enzymes.
"Consumers are getting smarter about ingredients and the impact of chemicals on their families and the environment. Green chemistry and innovations in biotechnology are the answer to these growing demands, and they are necessary for the future of our planet," says Dr. Pete He, Co-Founder and Chief Scientist at Dirty Labs. "With advancements in biotechnology, more enzymes, probiotics, and biosurfactants are becoming commercially available that will create completely new cleaning platforms – and eliminate our reliance on petroleum-based chemicals and synthetic manufacturing."
The development team comprised seven cross-discipline experts from Novozymes and Dirty Labs including scientists from R&D, as well as marketing and business specialists. By combining Novozymes' most advanced enzyme technology with their own biotechnologies, Dirty Labs has now brought its new laundry detergent containing the advanced Phytolase® biological formulation to market. It delivers superior cleaning at lower temperature and has a strong environmental profile. Moreover, it smells great!
"We have experienced a 360° collaboration with Novozymes that has resulted in a product that sets a new standard in the laundry market and will hopefully create a new foundation for a greener future in laundry," adds Dr. Pete. 
Forging ahead in the cleaning industry
Climate change is set to cause a 1.5 ºC jump in global temperatures by 2030 without significant action. Developing solutions together, however, enables Novozymes' customers to advance bioinnovation at an accelerated rate – helping confront climate change.
"With the urgency of meeting environmental commitments, it is essential that we forge ahead in the cleaning industry," says Arnaud Melin. "Through rapid change and better environmental performance of widely used products such as washing detergents, we can enable consumers and businesses everywhere to increase their contribution towards averting harmful climate change – and meeting much-needed environmental targets like the ones now set out by the American Cleaning Institute."
Find out more about Novozymes' biological solutions for laundry here. 
Facts
The vast U.S. cleaning products industry encompasses a $60 billion supply chain that includes the manufacturers of soaps, detergents, and general cleaning products used in homes, commercial properties, industrial premises, and public- and private institutes. It also includes companies that produce ingredients and packaging for cleaning products and chemical distributors.
The American Cleaning Institute® (ACI) – a trade association for the U.S. cleaning products industry – has issued a challenge for its members to take action to mitigate climate change and align with worldwide efforts to limit global average temperature rise to +1.5ºC
Novozymes' technologies help biofuel producers get more energy out of every harvest. This can be used to harness the renewable potential on millions of acres of cropland, sequester GHG emissions, boost yields, and increase the production of low-carbon biofuels made from farm crops, such as corn or soybeans.
Novozymes has already accepted the challenge with bold, science-based commitments.
Novozymes has pledged to achieve a 50% decrease in absolute CO2 emissions below a 2018 baseline, 100% use of renewable electricity, and a 15% reduction in Scope 3 CO2 emissions from purchased goods and services by 2030.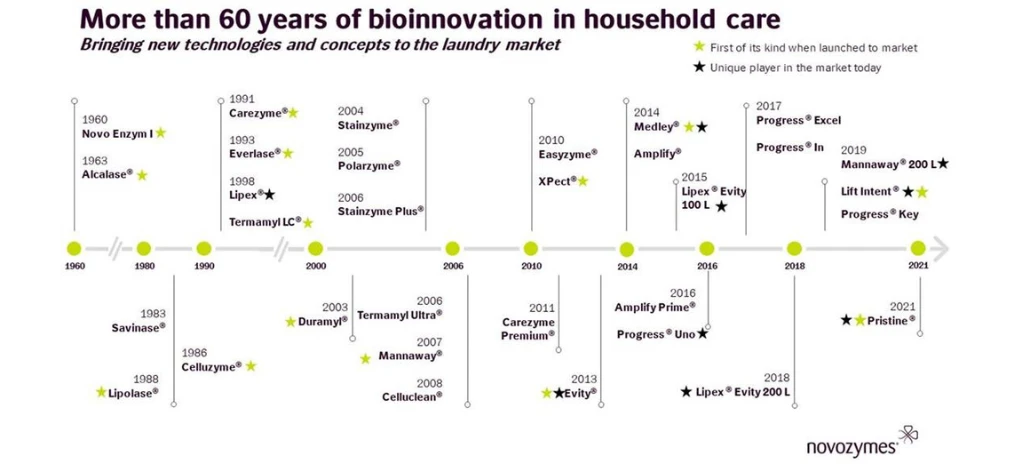 More than 60 years of bioinnovation in household care 
For more than 60 years, Novozymes has been researching, developing, and manufacturing pioneering technologies and concepts to the global laundry markets.
Get in touch
Media relations