Supplier management
We challenge our existing and new suppliers to join us in constant innovation.

"Rethink Tomorrow" is Novozymes' call to innovation. 
Rethinking supplier relationships
We are rethinking supplier relationships through systematic category management assessment to:
Optimize our cost base
Address common challenges with common values  
Optimize and innovate sustainable supply chains together with strategic suppliers  
Identify opportunities for joint business development 
Acknowledge the success of our suppliers as an integral part of the success of Novozymes 
Novozymes relies on a wide range of suppliers. We want sustainable solutions for our customers in every part of our value chain. It is our goal to maintain high efficiency, ensure supply reliability and apply our values to our value chain, including our suppliers.
Continuous reliable supply 
We expect our suppliers to deliver on their promise.  
Product and service quality 
We expect our suppliers to meet our expectations on quality.
Efficiency and price 
We expect our suppliers to face competition focusing on efficient delivery and continuous improvement year after year.
Responsibility and innovation 
We expect our suppliers to balance reliability, quality, and efficiency with a drive for sustainability and innovation. We partner with our trusted suppliers in efforts to innovate and implement responsible solutions throughout our supply chain.
Category management
Novozymes utilizes a standard toolkit for category management. It covers sourcing across all categories of expenditure within Novozymes.
This sourcing and supplier management toolkit consists of five steps:
Project initiation
Research & analysis  
Opportunity development  
Supplier selection  
Implementation 
We work with three main areas of purchasing: direct, indirect, and investment. Within each purchasing area we have defined categories. These categories are reflected in our purchasing organization with teams of skilled purchasers focusing on requirements, market conditions, quality standards and the global supplier base within each category.
We use categories to focus our competencies and to develop increasingly professional partnership with our suppliers.
Our three areas are described below
E-invoicing
At the beginning of 2006, Novozymes' vendor invoice process started undergoing a transformation from paper-based invoices handling to XML-based invoices for selected suppliers.
The selection is typically based on the numbers of invoices, the complexity of the invoices and the general economic attractiveness for both the supplier and Novozymes.
Since 2006 Novozymes and external parties have optimized the process and system functionality, facilitating smooth integration and operation. A transformation process will normally be initiated by Novozymes and will start with a kick off meeting where both parties agree on the process and which integration method is most suitable for the specific vendor.
There are three integration methods to chose from
Vendor Managed Inventory (VMI)
The main reason for implementing web VMI is to enable Novozymes to achieve electronic business transactions with suppliers of bulk and palletized goods where this is economically attractive for both the supplier and Novozymes. In doing so, Novozymes and the supplier can realize all the possible cost savings related to automating business processes on a broad scale.
When using web-based services, the supplier does not need to make major investment in software or hardware, and only needs a computer with web access and a password.
By automating the business processes related to suppliers, Novozymes and our suppliers will be able to realize a range of benefits. The web VMI provides Novozymes with the tools necessary to obtain these benefits by ensuring a large number of connected suppliers and a substantial number of electronic business transactions.
Bribery: No thanks!
Novozymes' core principles for prevention of bribery and corruption.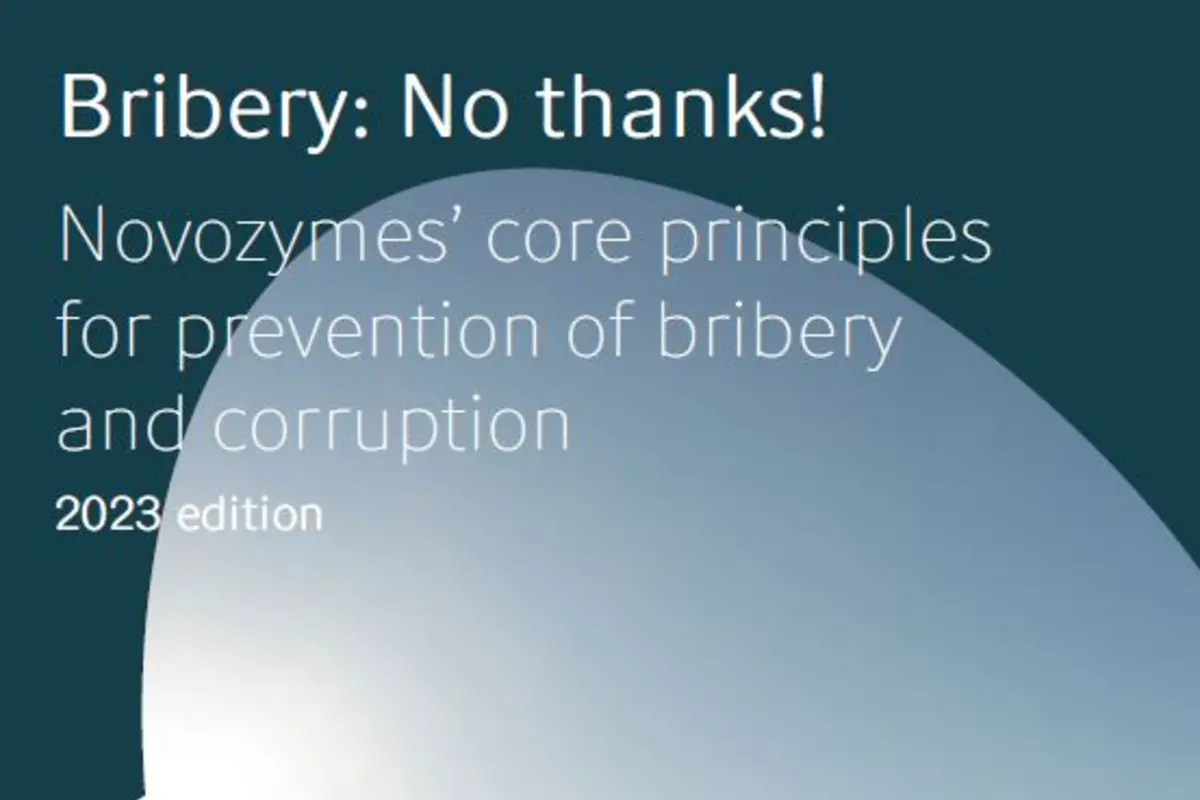 Regional sourcing offices - worldwide contacts