25.05.21 | Corporate
Novozymes honors researchers who have turned research into green business
Novozymes Award for Excellence in Biochemical Engineering goes to American Jeff Lievense, who has driven research to specific projects that can be used in the green transition
May 25, 2021 - When most of us walk on carpet, we do not stop to consider the number of chemicals it contains. However, today, Novozymes is honoring an American researcher who has helped bring the green transition down to our carpets - and many other products we use in everyday life.
"Winner of the 2020 Novozymes Award goes to Dr. Jeff Lievense for his work in biochemicals. Jeff has both conducted pioneering research and translated that research into concrete solutions in the industry," says Professor Jens Nielsen, Director of the BioInnovation Institute and Chairman of the judging panel.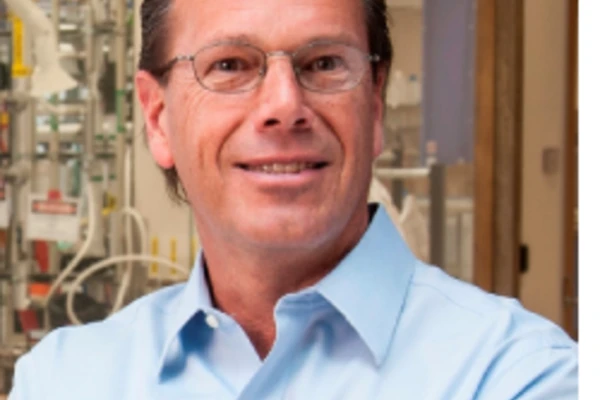 Supporting the green transition
Biochemicals are organic materials that originate from nature's own organisms, such as microorganisms. They can be used for the same thing as petrochemicals, the main difference being that biochemicals do not pollute. In this way, biochemicals can help support the green transition.
"Jeff Lievense researched making polymers using biochemistry, and he has since put that research to good use, so now some of the world's largest chemical groups make biochemical polymers that are included in carpets, for example," explains Jens Nielsen.
"We may not notice biochemical polymers in the same way as wind turbines, but Jeff's work is both a huge achievement in biochemistry and contribution to the green transition – not to mention, a billion-dollar business."
With the honor comes 100,000 kroner from Novozymes.
"Novozymes is based on innovation. We translate technology into biological solutions for many different industries, where they improve products for consumers and processes for industries, enabling them to use less energy and fewer chemicals, supporting the green transition. Jeff's work is a huge inspiration for us," says Claus Crone Fuglsang, Chief Science Officer and Executive Vice President of Research & Development at Novozymes.
"It's a great honor for me to be recognized by Novozymes, a leader in sustainable biotechnology, and to be considered in the company of the previous recipients, Professors Villadsen, Palsson, Stephanopoulos, Reuss, and Liao," says Novozymes Award winner, Jeff Lievense. "Fermentation has been serving humankind for a very long time, mostly as an art and only in the past 150 years as a science and technology. In this, the Century of Biology, I am convinced that the best is yet to come; most importantly, the industrial deployment of biotechnology to contribute towards achieving a carbon neutral world and secure prosperity for future generations."
About the Novozymes Award for Chemical and Biochemical Engineering:
The prize has been awarded since 2015 by Novozymes to individuals who have made a special effort in the field. Previous recipients are:
2019: James C. Liao, Professor and President of Academia Sinica, Taiwan.
2018: Matthias Reuß, Professor University of Stuttgart
2017: Gregory Stephanopoulos, Professor MIT
2016: Bernard Palsson, CEO of DTU Biosustain
2015: John Villadsen, Professor DTU
Get in touch
Media relations