28.04.22 | Financial
Sowing seeds for future innovation in new plant science think tank
Novozymes is spreading its roots in North America into NC State University's Plant Sciences Building – a brand-new, $160M research and innovation facility designed to foster collaboration between leading scientists in the global plant sciences arena.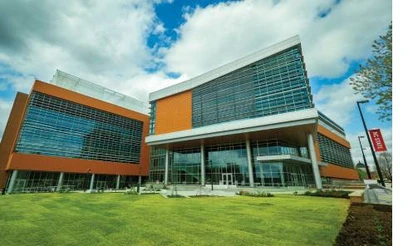 Raleigh, United States – April 28, 2022 – Novozymes, the leading biotech powerhouse, is joining some of the world's top plant science research organizations in NC State University's brand-new Plant Sciences Building in Raleigh, North Carolina.
The new 185,000 sq. ft facility is the home of the famed university's N.C. Plant Sciences Initiative (N.C. PSI), which fosters interdisciplinary, team-based work between academia, industry, government, and growers to solve key local and global plant science challenges.
"The Plant Sciences Initiative with its new building is the perfect breeding ground for breakthroughs in science and innovation," says Lone Dybdal Nilsson, Novozymes' Vice President, Applied Research Agriculture & Industrial Biosolutions. "It will provide the right facilities and environment, in the right agricultural area, and most of all, a unique opportunity for interdisciplinary cross-fertilization to advance our knowledge and capabilities in plant- and agricultural science." 
"This initiative is built on strong partnerships," said N.C. PSI Executive Director, Adrian Percy. "By bringing together global agribusinesses to collaborate with NC State researchers from across the university we expect to quickly fill the research pipeline with many innovative solutions for our stakeholders locally and globally."
Knowledge accelerator
With an office in the new building, which offers cutting-edge equipment, laboratories, growing spaces, rooftop greenhouses, and collaborative spaces – all located in one of the U.S.'s most prolific agricultural areas for many different kinds of crops – Novozymes will be able to engage fully in enriching its own plant science knowledge and breakthroughs at top speed. 
"Our office in this new facility will welcome R&D staff, as well as business experts from Novozymes, to interact with some of the brightest minds in the field," added Dybdal Nilsson. "With this continual, cross-functional interaction, we can discover research opportunities fast, although, of course, solid science takes time and investment."  
A unique opportunity
While there is still enormous need and potential for solutions from plant sciences, the new center represents a beacon for scientists in finding answers to some of the world's most elusive plant science mysteries. The outcomes could help us progress in business and society.
Besides Novozymes, the new research facility is attracting many global leaders in plant sciences, such as BASF and Bayer, as well as one of the world's leading data analytics providers, SAS.
"We are very excited about this unique opportunity to share space with other leading companies in plant sciences," finishes Lone Dybdal Nilsson. "Novozymes' aim is to continue to make a significant contribution to the global- and local agricultural arenas well into the future."
For more information: Four International Agribusiness Titans Commit to Collaborative Work in NC State University Plant Sciences Building | College of Agriculture and Life Sciences (ncsu.edu)
 Facts
• The new NC State Plant Sciences Building is in Raleigh, North Carolina, U.S.
• The 185,000-square-foot facility is equipped with cutting-edge tools and equipment, co-working spaces, and teams of interdisciplinary researchers, allowing both industry and academia to effectively collaborate to address grand challenges facing food, health, and agriculture. 
• Novozymes' BioAg business produces biological solutions for both broad acre and specialty crops. Its products facilitate natural processes, increase plant productivity, and protect crops from pests so farmers can produce more food, feed, and fuel with fewer inputs and on less land. 
- Novozymes' microbial inoculants fix nitrogen for higher yielding leguminous crops. 
- Novozymes' nutrient solubilizing technologies make soil bound phosphorous, an important and limited nutrient, available for plant uptake.
- Novozymes' signaling molecules initiate critical interactions between plants and mycorrhizae, increase photosynthesis and lead to a healthier plant even under stress conditions. 
- Novozymes' biocontrol solutions are OMRI certified, broad spectrum biological fungicides for use on broad acre, greenhouse and specialty crops, that reduce reliance on chemical pesticides for fungal control.
Get in touch
Media relations