16.12.21 | Financial
Univar Solutions appointed as distributor of Novozymes' biological cleaning solutions in Brazil, Mexico, Paraguay, Uruguay and Bolivia
Bioinnovations to provide homecare and industrial cleaning market customers with next-generation, sustainable biological solutions.
December 16, 2021 – Univar Solutions Inc. (NYSE: UNVR), a global chemical and ingredient distributor and provider of value-added services, today announced a new agreement with Novozymes, the world leader in biological solutions, expanding the partnership between the two companies into the homecare and industrial cleaning market for Brazil, Mexico, Paraguay, Uruguay and Bolivia. The exclusive agreement builds on existing partnerships between the two companies in Latin America, Europe and North America that helps provide customers with innovative enzyme and microbial solutions that improve cleaning product performance and lead to more sustainable products in the market.
"We are pleased that Novozymes continues to place their trust in Univar Solutions for five additional countries," said Jorge Buckup, president of Latin America for Univar Solutions. "Their portfolio of innovative enzyme solutions aligns with our purpose to help keep our communities healthy, fed, clean and safe. It is also in line with our desire to expand Univar Solutions' offering for the homecare and industrial cleaning market by partnering with a world-class manufacturer that has invested in global initiatives to safeguard our environment using strategies dedicated to innovation, quality and more sustainable solutions."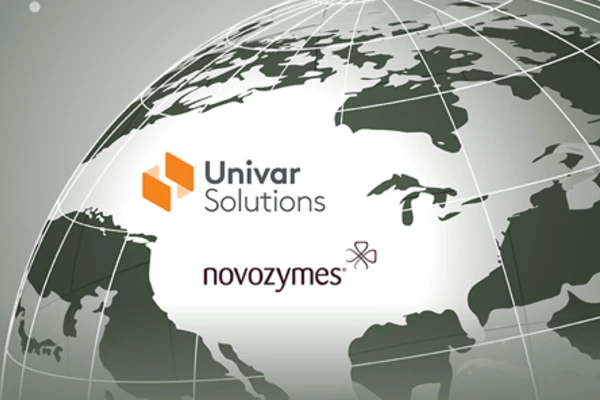 "Within the homecare and industrial cleaning market, consumer demand is trending toward more eco-friendly products that are designed to help conserve resources and minimize waste without compromising on safety, quality and performance," said Nick Powell, president of Industrial & Specialties for Univar Solutions. "The addition of Novozymes' biological cleaning products helps Univar Solutions increase its range of more sustainable solutions through a diverse set of quality ingredients for cleaners, detergents and disinfectant products."
"As Novozymes expands its offering of biological cleaning ingredients and sustainable solutions to regions around the world, we are excited to continue working with Univar Solutions as our new distributor in these five countries for the homecare and industrial cleaning market," says Arnaud Melin, Novozymes' Vice President of Consumer Biosolutions, Americas. "With Univar Solutions' dedicated industry team, supply chain expertise, and global network of innovative laboratories, together we are well-positioned to help customers develop innovative products that use raw materials more efficiently, reduce energy consumption and replace traditional chemicals with more sustainable alternatives."
For more information about biosolutions for the cleaning industry, please visit www.univarsolutions.com/cleaning-biosolutions.
About Univar Solutions
Univar Solutions (NYSE: UNVR) is a leading global specialty chemical and ingredient distributor representing a premier portfolio from the world's leading producers. With the industry's largest private transportation fleet and technical sales force, unparalleled logistics know-how, deep market and regulatory knowledge, formulation and recipe development, and leading digital tools, the Company is well-positioned to offer tailored solutions and value-added services to a wide range of markets, industries, and applications. While fulfilling its purpose to help keep communities healthy, fed, clean and safe, Univar Solutions is committed to helping customers and suppliers innovate and focus on Growing Together. Learn more at www.univarsolutions.com.
Get in touch
Media relations