27.01.21 | Financial
New enzyme helps producers of vital wheat gluten get more out of their wheat
Frontia® GlutenEx enables plants to recover 2 %-points more wheat gluten protein from the same amount of raw materials and reduce their energy consumption. No retrofitting of equipment and processes needed.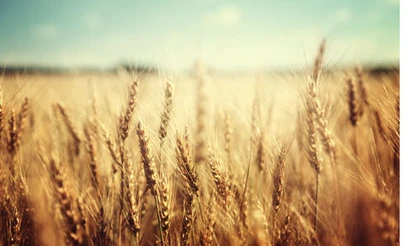 Wheat has become a sought-after substrate for starch and ethanol production, mainly due to the increase in demand for vital wheat gluten (VWG), which is the valuable gluten protein product in the wheat separation process.
The unique properties of VWG makes it applicable in the baking industry, the aquafeed sector and for plant-based protein products. Production of VWG has grown by 4.5% CAGR from 2000 to 2019, and this growth is expected to continue in the coming years at almost the same pace. At the same time, however, wheat prices have risen 4.5% YoY over the last 5-year period, which puts more pressure on the production margins1.
Novozymes' new biological innovation has a special focus on improving the recovery of wheat gluten enabling VWG producers to get the most out of their wheat.
"We developed Frontia GlutenEx to help wheat processors increase their gluten protein recovery and at the same time cut down on the energy consumption," says Elisa Hjortkjaer, Head of Grain Milling Business & Portfolio Unit. "The new enzyme enables them to improve their competitive edge by improving the margins in their process".
When used in the wheat flour separation process, the new enzyme increases the recovery of gluten protein by 2 %-points and also reduces energy consumption. For a European plant with a capacity of 1,000 tons of flour (dry base) per day, this corresponds to up to €1,000,000 per year2 of value left unrealized.
No retrofitting or investments needed
Frontia GlutenEx is the newest innovation within Novozymes' Frontia platform, a range of enzymatic solutions to help grain millers improve their processes and business.
"Frontia GlutenEx was developed to help VWG producers do better business by use of biology. As such, the enzyme reduces viscosity during their process which entails a better wheat flour separation and enables increased recovery of vital wheat gluten and other benefits," says Elisa Hjortkjaer. "Furthermore, the plants do not need to invest or retrofit their process in order to use Frontia GlutenEx. They can simply replace their existing enzyme".
Novozymes' technical service will be available to share expertise and assist wheat processors that are interested in implementing the solution. Elisa Hjortkjaer says:
"In Novozymes we are dedicated to developing biological solutions that help our customers improve their processing to feed and fuel the world in more sustainable ways – and Frontia GlutenEx is a great example of how we help our customers achieve better business with biology."
1 Data from LMC International 2020.
2 2%-pts improvement compared to Novozymes' Shearzyme product. Calculations on savings by Novozymes
Three reasons for vital wheat gluten producers to use Frontia GlutenEx
Frontia GlutenEx provides a significant viscosity reduction that enables a better starch and gluten separation. The key benefits are:
Up to 2 %-points higher gluten protein recovery, compared to Shearzyme.
Less energy consumption due to better dewatering effect of the enzyme.
No investment in additional equipment required.