01.02.21 | Financial
Novozymes enters agricultural biocontrol with enzymes
Pioneering enzyme-based biocontrol technology to complement Novozymes' existing BioAg base in microbes. Strategic collaboration with FMC to co-develop enzyme solutions for two segments, leveraging Novozymes' multi-partner setup in BioAg, also announced.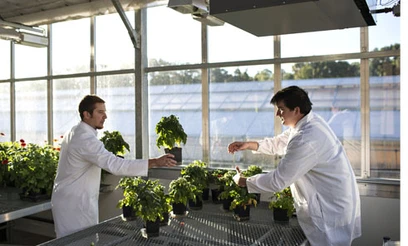 February 1, 2021 – Novozymes, the world leader in biological solutions, is entering the biocontrol segment of agriculture with promising enzyme-based technology – expanding beyond its current base of microbial products and innovation. The new technology has broad potential to control major pests that impact the agricultural industry and are responsible for billions of dollars of damages each year.
"While early, we see a lot of potential in the enzyme biocontrol technology to complement our current innovation and provide highly efficacious yet sustainable pest control solutions for farmers globally – making a real impact in addressing the major challenges to chemical pesticide usage," says Ester Baiget Arnau, Novozymes' President and CEO. "As the global leader in industrial biotechnology, including enzymes, we are very excited about the expanded potential we have seen for our core enzyme capabilities and technology to now pioneer an important role in pest control in agriculture."
The agricultural industry faces challenges to replace or reduce chemical pesticides with more sustainable solutions. In some regions, the usage of key chemical pesticides is already restricted and, importantly, in a world facing increasing pressures, consumers are demanding that products they consume are made in a more sustainable manner.
Against that backdrop, effective biological pest control solutions are in high demand and the biocontrol market is expected to grow at double digits for the foreseeable future.
Strategic collaboration with FMC
As part of the entry into the biocontrol segment with enzyme technology, Novozymes is announcing a strategic collaboration with FMC, a leading global agricultural sciences company, to research, co-develop, and commercialize biological enzyme-based crop protection solutions for growers around the world in two specific segments.
Under a multi-year global agreement, the partnership will be targeting combination products of the enzyme-based biocontrol technology with FMC insecticides, focusing on FMC's leading diamide insecticide technology, and targeting enzyme-based biocontrol solutions for controlling Asian Soybean Rust (ASR), a major soy fungal disease which is particularly problematic in South America.
Together, the companies will combine their respective R&D capabilities with FMC serving as commercial partner and Novozymes as the manufacturing partner. The partnership will leverage Novozymes' enzyme biocontrol technology development to date, and the companies will work closely together to unlock the potential and seek the necessary approvals to commercialize the technology in the relevant global markets.
"We see FMC as a great partner with strong scientific and commercial capabilities – and, importantly, a clear commitment to biological solutions," says Ester Baiget Arnau. "Our partnership with FMC is part of our increased efforts to meet the need for sustainable pest control solutions for growers around the world. Together, we will develop innovative biological solutions for key market segments where FMC is an ideal commercial partner." 
According to Novozymes and FMC, the enzyme biocontrol technology can potentially support stand-alone products as well as play a critical role in providing comprehensive integrated pest management solutions for farmers.
"We look forward to partnering with Novozymes in bringing enzymatic technology to the crop protection market," says Mark Douglas, FMC President and Chief Executive Officer. "FMC is committed to delivering differentiated biological products that provide growers with science-backed solutions to help sustainably manage crops, protect yields, and combat resistance. The use of enzymes in agriculture is an exciting new frontier for biologicals."
Biocontrol Technology Platform
Recently, Novozymes has increased its strategic commitment to the biocontrol segment – continuing to leverage its more flexible multi-partner setup in BioAg.
From its research, the company sees a potential of enzymes to control numerous microbial and insect pests effectively. Going forward, the new efforts with FMC, alongside existing microorganism technology, will form part of a broader Biocontrol Technology Platform.
"We continue to see the agricultural biologicals market as a very attractive space for Novozymes with a clear need for impactful technology – whether microbes or enzymes," says Tina Sejersgård Fanø, Novozymes' Executive Vice President for Agriculture & Industrial Biosolutions. "We are excited about the solutions we have recently brought to market with our partners and believe our biotechnology will play an increasingly relevant role in delivering sustainable crop protection."
Markets, biocontrol, and bioyield
Enzymes are proteins, produced by a living organism, which act as catalysts to bring about specific biochemical reactions
The global value of crop production is approximately two trillion dollars
The global Ag inputs market (seed, pesticides, and fertilizer) is approximately 300 billion dollars – with the market for pesticides approximately USD 90 billion
There are two main segments for biologicals:
      - The biocontrol segment in which biological products are used to supplement and replace chemical pesticides to control insects and microbial                  diseases. Today, this segment is a five billion dollar-market.
      - The bioyield segment in which biological products are used to enhance plant nutrition and/or to stimulate plant growth. This market today is                    about a three billion dollars.
Both biological markets are growing; biocontrol is the fastest growing and forecasted to experience double-digit growth for the foreseeable future, doubling in about five years.
To learn more about Novozymes' BioAg business, including its biocontrol and bioyield solutions, visit https://biosolutions.novozymes.com/en/bioag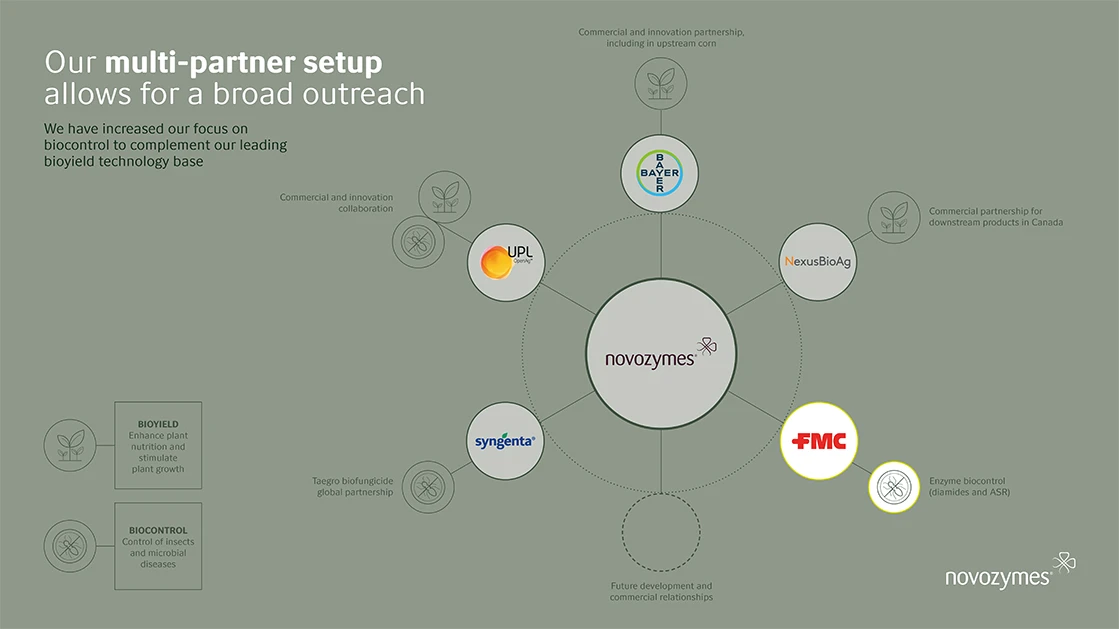 Infographic: Novozymes' multi-partner setup allows for a broad outreach
Novozymes has increased its focus on biocontrol to complement its leading bioyield technology base. Download Infographic here.
Animation: Enzyme technology and biocontrol
Novozymes' enzyme-based biocontrol technology has broad potential to address some of the major challenges to existing crop protection solutions in a more sustainable manner.
About FMC
FMC Corporation, an agricultural sciences company, provides innovative solutions to growers around the world with a robust product portfolio fueled by a market-driven discovery and development pipeline in crop protection, plant health, and professional pest and turf management. This powerful combination of advanced technologies includes leading insect control products based on Rynaxypyr® and Cyazypyr® active ingredients; Authority®, Boral®, Centium®, Command® and Gamit® branded herbicides; Talstar® and Hero® branded insecticides; and flutriafol-based fungicides. The FMC portfolio also includes biologicals such as Quartzo® and Presence® bionematicides. FMC Corporation employs approximately 6,400 employees around the globe. To learn more, please visit fmc.com.
Get in touch
Media relations