09.02.21 | Corporate
Novozymes helps develop screening process for new variants of Coronavirus
Novozymes, in collaboration with Rigshospitalet (Copenhagen University Hospital) and University of Oxford, is to develop a modified PCR protocol that allows for detection of people infected with the new UK, Brazilian or South African variants of Coronavirus.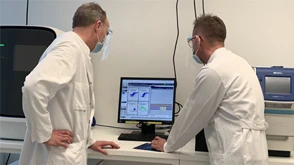 As the vaccine arrives in many places around the world and helps prevent the spread of COVID-19, new and more transmissible variants of the virus also arrive. These variants are spreading rapidly in some countries, where they quickly become dominant.
At Novozymes, we know that biology can be used to make the world a better place. People outside the company also know this and are asking for help.
"The Head of Genomic Medicine at Rigshospitalet (Denmark), a leading Professor in Virology and Immunology at University of Oxford (UK), and an expert in oligonucleotide research and PCR testing (Denmark), reached out to Novozymes. They asked us to develop a screening method that can detect the mutations in the new variants, whilst still being compatible with the current PCR protocol," says Stephanie Oerum, Research Scientist at Novozymes.
"Of course, we said yes. We have the capabilities to help, as we did in the original PCR testing setup. It is what we do; we help the world with biology" says Claus Crone Fuglsang, Chief Science Officer and Executive Vice President of Research & Development.
What is PCR testing?
Most of the current COVID-19 tests use PCR screening. They detect the genetic information of the virus - the RNA. By detecting viral RNA, which will be present in the body before antibodies form or symptoms of the disease are present, the tests can tell if someone is infected with the virus very early on.
A good challenge
Stephanie and her colleagues have started the work and are now conducting initial tests on patient samples. "We have written a new protocol for the current PCR screening that only requires one additional component and are now testing this in a clinical set-up on patient material. We are working as fast as we can. It's a challenge, but a good one. It's about helping people and stopping the new variants from spreading," Stephanie says.
Read more about how Novozymes is responding to the COVID-19 pandemic here.