16.09.21 | Financial
Univar Solutions and Novozymes to provide biological solutions for waste and wastewater treatment
Market-leading portfolio allows customers to shift toward more sustainable operations while reducing reliance on fossil fuels and producing cleaner water.
September 16, 2021 — Univar Solutions Inc., a global chemical and ingredient distributor and provider of value-added services, today announced a new agreement with Novozymes, expanding their relationship to include biological solutions for waste and wastewater treatment in the United States and Canada. Longtime global partners, the new agreement follows previous announcements expanding the partnership into a range of markets in the United States, Canada and Latin America.
"We are thrilled to expand our partnership with Novozymes and add to our market-leading and more sustainable wastewater treatment capabilities. Our customers have complex water treatment requirements and count on us for products and chemistries as well as outstanding service and deep industry expertise. The addition of Novozymes' specialty biologic solutions to our wastewater treatment portfolio strengthens our offerings and further enables us to provide customers with essential, sustainable products and services to help meet vital business needs," says Brian Jurcak, vice president of product marketing management at Univar Solutions. "Investing in our water treatment business and enhancing it with best-in-class bioaugmentation products allows our dedicated water treatment team, led by well-known industry expert John Fulcher, to continue driving reliable, next-generation solutions for our customers."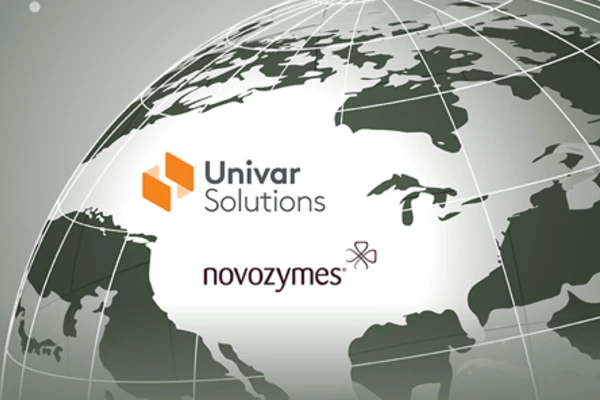 "This partnership will help Novozymes expand our reach within the water industry through Univar Solutions' vast network of dedicated industry experts – and Univar Solutions has really done an outstanding job developing their team and network of customers and relationships," adds Brian Brazeau, Novozymes' President for North America and vice president, Agricultural & Industrial Biosolutions, Americas. "With biology and biotechnology increasingly recognized as catalyst for the next industrial revolution, this partnership will help kick-start a fundamental shift toward more sustainable, biological solutions also in the water and waste industries."
The new agreement reinforces Univar Solutions' ability to service municipal and industrial wastewater treatment plants, providing bioaugmentation, biogas and sludge management enzymatic and microbial treatment solutions. Novozymes' biological solutions in enzyme- and microbial technology catalyze key processes, transforming, for instance, dissolved organic matter in wastewater into a biomass that can be separated from the treated wastewater and safely disposed. The advanced biotechnology allows for biological solutions to traditional water and waste-treatment challenges such as sludge management, degradation of recalcitration compounds and biogas generation.
Univar Solutions is a leading wastewater treatment provider in the United States and Canada, with an expansive product portfolio and an experienced team of experts who provide specialized market expertise, technical assistance and tailored solutions for all waste and wastewater management stages. Novozymes' biotechnology helps users implement more sustainable wastewater treatment systems. Examples include biological solutions, such as BioSpikes 5000, that help reduce dredging costs and improve wastewater lagoon capacity and BG Max 3000, which enhances anaerobic digestion to help increase biogas yield, reduce solids generation, and support healthy digester operation. These products allow customers to shift their operations to be more sustainable, reduce their reliance on fossil fuels, and assist them in producing cleaner water. Learn more at www.UnivarSolutions.com/Suppliers/Novozymes.
About Univar Solutions
Univar Solutions (NYSE: UNVR) is a leading global specialty chemical and ingredient distributor representing a premier portfolio from the world's leading producers. With the industry's largest private transportation fleet and technical sales force, unparalleled logistics know-how, deep market and regulatory knowledge, formulation and recipe development, and leading digital tools, the Company is well-positioned to offer tailored solutions and value-added services to a wide range of markets, industries, and applications. While fulfilling its purpose to help keep communities healthy, fed, clean and safe, Univar Solutions is committed to helping customers and suppliers innovate and focus on Growing Together. Learn more at www.univarsolutions.com. 
Get in touch
Media relations