10.05.22 | Corporate
Celebrating a decade of Nebraskan growth – and impact
Novozymes marks the tenth anniversary of production in Blair, Nebraska – a success story that continues to grow. Over the past 10 years, enzymes from the site have enabled gasoline displacement via biofuels equivalent to taking 15 million cars off the road.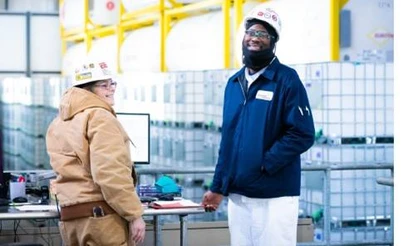 BLAIR, Nebraska, United States – May 10, 2022 – Novozymes today celebrates the 10th anniversary of its Blair biotech manufacturing plant, in Nebraska, with an event attended by Gov. Ricketts and local officials, and enjoyed by employees, customers, and supporters.
Through a decade of inspiration, insight, and investment, Novozymes has been developing the cutting-edge biotech facility from bare land along the Missouri River into the largest enzyme manufacturing plant dedicated to biofuels in the world.
"Bioscience companies have thrived in Nebraska's business-friendly climate," says Gov. Ricketts. "Novozymes broke ground in Blair in 2009 to make enzymes for ethanol production. They are continuing to grow, with an additional investment of over $300 million in a new protein production facility. Thank you to Novozymes for your commitment to the community of Blair and for helping to grow the Good Life."
The plant has expanded significantly since its first creation. Currently, construction of a new, $300 million state-of-the-art production line is underway, which will enable growth of Novozymes' business in Advanced Protein Solutions.
"Since 2012, Blair has evolved from a bare field to a top-notch biotech production facility, supplying products to sustain and grow the bioenergy industry in North America," says Vanessa Rising, General Manager of Novozymes' Blair site. "Now, we are busy expanding Blair again to deliver on our strategy and help meet growing global demands for protein."
Investing in the future
Investment in Blair began in 2009, when Novozymes launched a $200 million plan to build the original production facility to provide enzymes that would help meet consumer demand for bioethanol. The site was initially designed as a 100-employee facility with multiple expansions already anticipated. The new plant was inaugurated on May 30, 2012 – and just five years after opening, Blair underwent a $36 million expansion with the addition of several new fermentation tanks, more cooling tower capacity, and other utilities.
Novozymes in Blair now has around 145 employees, dedicated to meeting customer demands in bioenergy and animal feed. The site delivers to more than 100 different ethanol plants in the U.S., Canada and beyond.
Serving new markets
The success of Novozymes' Blair plant is partially attributable to the effectiveness of the biosolutions it produces. They have been welcomed by the marketplace because they bring substantial benefits to both customers and consumers.
"A calculation shows that over the past 10 years, enzymes from our Blair plant have enabled gasoline displacement via biofuels equivalent to taking 15 million cars off the road. That is a remarkable impact that we are very proud of!" says Rising, the General Manager.
With an additional focus at Blair – Advanced Protein Solutions –, Novozymes has an exciting opportunity to help agriculture grow and support rural development.
"Expanding in the global protein market with Advanced Protein Solutions will enable us to increase the sustainability, equity, and diversity of this strengthening market," adds Vanessa Rising. "We need these advanced solutions to help feed the world, sustainably, through facilities like the one here in Blair."
People power
A large proportion of the original employees is still at Novozymes Blair, ten years on.
"While investment and wide support have been essential, Novozymes' success at Blair is also about its own people – our 'Zymers'," says Vanessa Rising. "People power has made this remarkable growth story possible within a short period of time. It is a testimony to the team spirit, purpose, achievements, and close culture that have evolved there, which has been built by Zymers themselves."
Currently, Novozymes has several exciting positions open at its site in Blair – and is actively recruiting for its latest expansion. Please see this link for more information.
What Novozymes Blair means to me
Tyler J. Brown, Lead Operator
Joined: 2012
"At Novozymes Blair, I found a career and a place in which I could develop even at a young age. Novozymes' core values have not only had a great impact on my work-life outlook but on a personal level as well. I have followed the values and they have helped me achieve goals that I never thought were possible in my previous role. In the beginning, we were hired as the plant was being built. This was a great experience for me to be a part of because it allowed me to grow daily as the plant began to grow with new equipment and processes. Blair has given not only just a great opportunity to develop but so much more. A place to network and create working relationships, to achieve goals and critically problem solve, having direction from peers by engaging in ideas that look to a brighter future. Novozymes helped make my dreams come true not only in the workplace but outside as well."
Suzanne Gates, Environmental Compliance Specialist
Joined: 2012
"Ten years ago, we were just starting up production and had a huge task ahead of us, to produce and produce well. The team were excited and energetic. We were all learning and all in it together. At first, we only produced a couple of strains and were focused on supporting biofuels. We now produce enzymes to support animal feed and biofuels – with the strain count that we have produced in the double digits. Our recycling programs we are well on our way to achieving a Zero Waste goal! The expansion of Novozymes Blair is an incredible opportunity for our site and the company as a whole. In certain ways, we will be back to 'startup mode'. We will all be learning something new and pulling together to make it a success. I will never forget, the first year we were in operation, we had issues with toads inside the building. The team knew how much I loved them, so I would be gifted with cups of toads for me to relocate safely to the wetland area outside!"
Kristi Kolb, Data Specialist
Joined: 2011
"Starting this new venture together ten years ago developed our culture and our relationships with each other as a team. Within the first month or so of beginning at Novozymes Blair, we found out that we were going to have to deal with a historic flood. A serious flood of the whole river and surroundings. While it was an anxious time, as a site we really had to come together and work as a team. We did a lot of preparation to prevent problems and helped others on the campus. We made it through – and it consolidated our team."
Joel Kelley, Reliability & Maintenance Manager
Joined: 2011
"Novozymes Blair gave me first chance at leadership, and I have appreciated every second of it. People are the main thing I come away with from Blair. We have had hundreds of people come through here over the last ten years and many different characters and colorful personalities. A couple have sadly passed away in their prime, however, they will never be forgotten."
Facts about Novozymes Blair
• Novozymes Blair is a 37-acre plant in Blair, Nebraska, U.S. It is part of a wider campus operated by Cargill.
• In 2016, Blair was recognized as Nebraska's Manufacturer of the Year by the Nebraska Chamber of Commerce and Industry. Novozymes was given the award for its ability to use new products, process, technologies, and strategies to implement innovative ways of doing business.
• Enzymes are an enabling factor in the production of bioethanol, which displaces gasoline in transport. Novozymes estimates that the gasoline displacement enabled by the enzyme products from Blair  over the past ten years have saved greenhouse gas (GHG) emissions equivalent to 360 million tons of CO2. This corresponds to taking 15 million cars off the road for the same period of time.
• In 2022, Novozymes was named one of Nebraska's Safest Companies by the Nebraska Safety Council – for eight years in a row.
• Novozymes' Blair staff frequently engage with local communities and charities to help where possible, such as local universities to support STEM learning, homeless shelters, food banks and many youth clubs, and sports activities. Over the last 10 years, Blair has donated over $675,000 to organizations and community events in Blair and its surrounding communities.
Get in touch
Media relations