18.02.21 | Industrial
DSM | Novozymes Feed Alliance Ronozyme® launch
DSM | Novozymes Feed Alliance launches Ronozyme® feed enzymes at CIIE
DSM-Novozymes Feed Alliance launches Ronozyme® feed enzymes at CIIE
Novozymes and Royal Dutch DSM group jointly developed the Ronozyme® feed enzymes at the 4th China International Import Expo (CIIE), to promote the development of animal husbandry in a more efficient and sustainable way. The launch lineup includes Ronozyme® ProAct (protease), Ronozyme® HiPhos (phytase), Ronozyme® WX (xylanase) and Ronozyme® RumiStar™ (amylase). Relying on the power of biotechnology, the Ronozyme® feed enzymes will improve feed utilization and efficacy, while also reducing feed costs and adverse environmental impacts, thereby promoting sustainable development of the industry. The launch fully demonstrates the firm determination of the Feed Alliance to actively implement their commitment to sustainable development.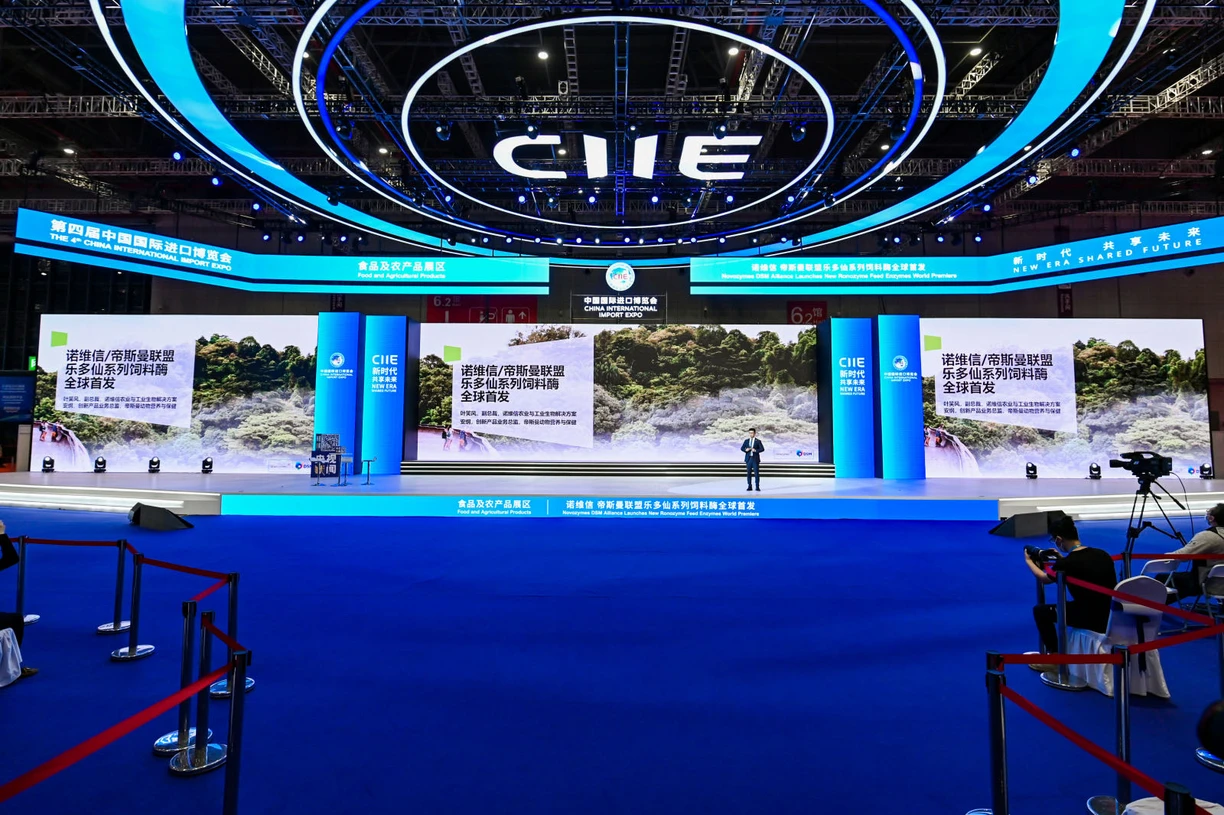 Ye Xiaofeng, Vice President of Agricultural & Industrial Biosolutions, Novozymes China, said: "As a global leader in the field of biological solutions, Novozymes is committed to creating a more sustainable future for agriculture and industry with the power of biology. Ronozyme® feed enzymes, jointly created with DSM, will not only help enterprises improve quality and efficiency, reduce breeding costs, but also reduce the use of chemicals, effectively reduce carbon footprint, and create a double harvest of economic and environmental benefits. In the future, we will continue to work with our partners to explore the forces of nature and bring more sustainable products and technologies to China."
Referring to the collaboration with Novozymes, An Gang, DSM's Director of Innovative Products for Greater China, said: " Royal Dutch DSM group focuses on the fields of nutrition, health and biological sciences, complementing Novozymes' development philosophy. We have carried out strategic cooperation with Novozymes for more than 20 years, dedicated to the research and development, production, and promotion of feed enzyme products. The release of the Ronozyme® feed enzyme products mark another important milestone in our strategic cooperation. We will continue to build on this and jointly promote the transformation and sustainable development of animal husbandry."
Promoting the sustainable development of animal husbandry with the power of biology
With the help of biotechnology, Ronozyme® feed enzymes ensure that customers can achieve both economic and environmental benefits. With the prices of feed raw materials such as soybean meal, corn and inorganic phosphorus on the rise, the pressure on production costs have increased significantly. On March 15th, 2021, the Animal Husbandry and Veterinary Bureau of The Ministry of Agriculture and Rural Affairs issued a notice on promoting the reduction and substitution of corn soybean meal. The focus of the "work plan for the reduction and substitution of corn soybean meal in feed" is to promote the reduction and substitution of corn and soybean meal in feed promote feed grain supply to ensure stable market. In the alternative technology scheme of corn and soybean meal reduction, feed enzyme preparation is one of the key technologies. Ronozyme® feed enzymes are a comprehensive product portfolio that effectively reduces the use of soybean meal, corn and inorganic phosphorus in feed, improving the cost and efficiency of breeding, and contributing to the stable supply of feed grain.
Among them, Ronozyme® ProAct can effectively improve the digestibility of proteins and amino acids in the feed, thereby reducing the application of protein raw materials such as soybean meal. Ronozyme® WX and ruminant specific Ronozyme® RumiStar™ increase the energy release of raw materials such as corn by degrading the corresponding substrate, thereby reducing the use of corn. In the face of continuous price increases of inorganic phosphorus, Ronozyme® HiPhos releases more phytate phosphorus, reducing the use of inorganic phosphorus. Relying on Novozymes' professional R&D platform, the initial stage of product development Ronozyme® feed enzymes is based on the strict screening of enzyme molecules according to the conditions of feed and breeding, and combined with advanced preparation technology, so that the final product meets the strict needs of feed and aquaculture, such as tolerance to high temperature conditions of feed granulation and stomach acid environment.
Ronozyme® feed enzymes also play an important role in reducing greenhouse gas emissions. As feed enzymes improve feed digestibility, animals can improve the efficiency of the feed intake either through absorption of more nutrients or by consuming less feed. In both cases, this translates to a reduction in manure and overall emissions such as carbon dioxide and reduce adverse effects on the environment. Feed enzymes technology relies on increasing efficiency through biological power. The result is a reduction in energy losses, helping the animal protein industry achieve sustainable development.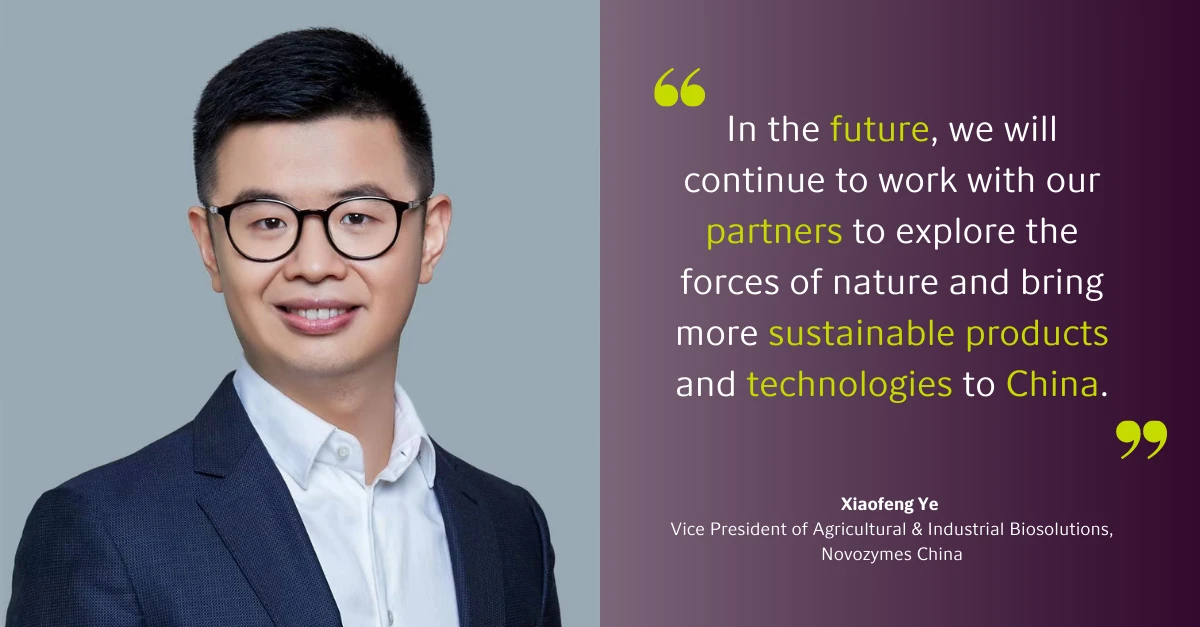 Working Together to Create a Greener Future
Novozymes and DSM have been working together for over two decades to develop and apply feed enzymes to promote the sustainable development of the livestock industry. As a global provider of large-scale biological solutions, Novozymes has always maintained the concept of sustainable development throughout the entire industry chain, continuously introducing innovative biotechnology to improve industrial efficiency while protecting the earth's resources and helping to create a better life. As a mission-oriented company, DSM is committed to driving sustainability and creating a better life for humanity and its future generations. Over the years, DSM has been providing proven solutions to the challenges faced by the livestock industry through continuous investment and innovation. In the future, the company will continue to deepen and expand the cooperation between the Feed Enzymes Alliance organization in China, increase the investment in research and development of feed enzyme preparations in China, and provide sustainable and innovative solutions for the challenges faced by China's feed industry.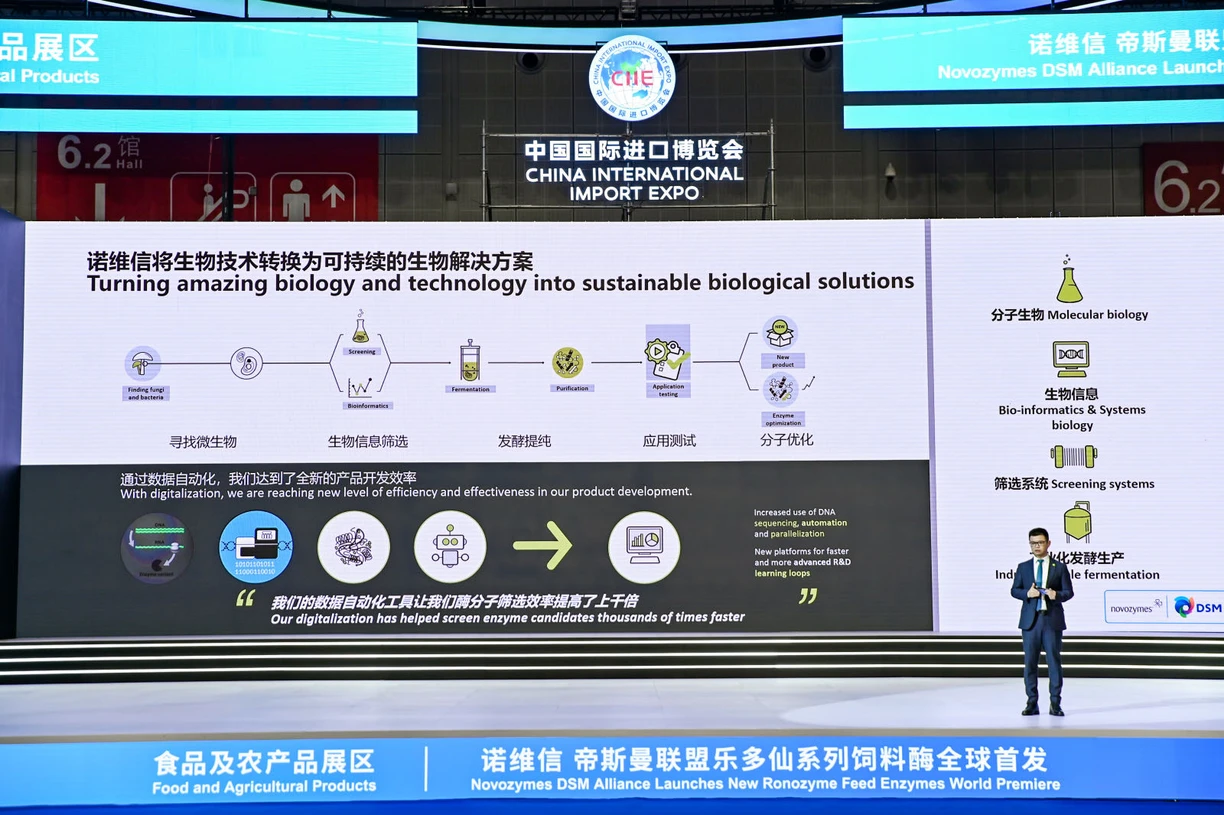 About DSM
Royal DSM is a global, purpose-led company in Health, Nutrition & Bioscience, applying science to improve the health of people, animals, and the planet. DSM's purpose is to create brighter lives for all. DSM's products and solutions address some of the world's biggest challenges while simultaneously creating economic, environmental and societal value for all its stakeholders – customers, employees, shareholders, and society at large. DSM and its associated companies employ approximately 23,000 people around the world and deliver annual net sales of about €10 billion. The company was founded in 1902 and is listed on Euronext Amsterdam. More information can be found at www.dsm.com. 
About Novozymes
Novozymes is the world leader in biological solutions. Together with customers, partners and the global community, we find biological answers to preserve the planet's resources and help build better lives. As the world's largest provider of enzyme and microbial technologies, our bio-innovation enables increased health and nutritional benefits, higher agricultural yields, improved washing, energy-efficient production, renewable fuel and many other benefits that we rely on today and in the future. We call it Rethink Tomorrow. www.novozymes.com.