Product Safety
Novozymes only market safe biological products that are assessed and found to be safe to handle and use when the recommended safe-handling guidelines are followed. Novozymes conducts a thorough risk assessment to evaluate the safety of all our solutions. Safety is assessed both in relation to industrial handling (workers safety) and the end users.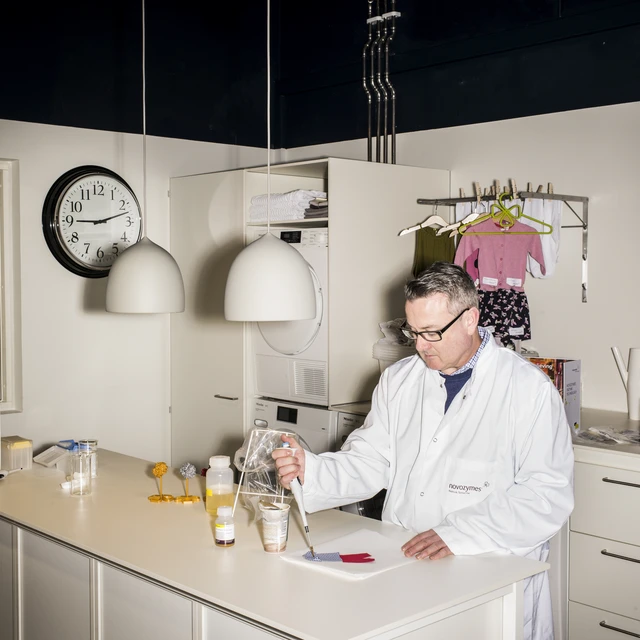 Safe development and application of products
Novozymes products are approved as safe biological ingredients in the manufacturing of numerous products such as detergents, food- and human health products. Before promoting any products or applications (new uses), Novozymes conducts a thorough risk assessment to evaluate the safety of the products. Safety is assessed in accordance with legislations like REACH requirements and in accordance with our position on animal testing. The results are used for product registration.

One large products category are enzyme products. Enzymes are biodegradable, water soluble and generally non-toxic. However, if not handled correctly during the industrial handling, health-related issues such as skin irritation and respiratory allergy, may occur when working with enzymes in industrial processes. The allergy risk is only related to people working with enzymes in industrial processes and not to end users/consumers.
Another product category is our microbial products. Novozymes exclusively develops products from microorganisms in Risk Group 1, which are documented to have no harmful effects on humans. Nonetheless, if the microbial products are not handled correctly, health reactions may arise during industrial handling. Inhalation of bioaerosols or dust of any organic matter (e.g. pollen, bacteria, flour, soils, etc.) above a certain threshold can lead to unwanted health reactions, and can be avoided by correct handling.
Novozymes has designed all our product and product formulations to generate a minimum dust level. And we share our guidelines with recommendation to safe handling in the industrial processes with our customers. If you are a customer, you can download Safety Data Sheets (SDS) and safe handling guidelines at Novozymes Market and on Novozymes commercial pages.