Novozymes India
India is a significant market for Novozymes, contributing to over 30 industries.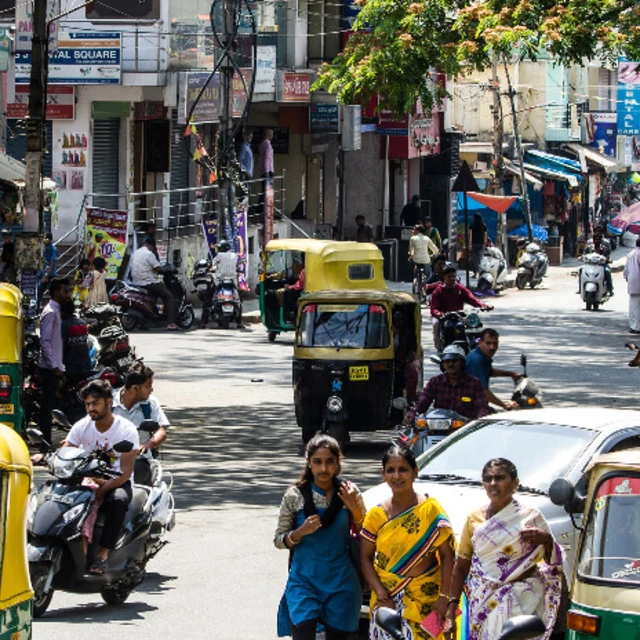 Advance your business
We make it our business to advance your business. Get in touch to find out more.
About Novozymes India
Novozymes started operations in India in 1983 and is the largest supplier of industrial enzymes and microorganisms in the region today. The region's operations cover India, Sri Lanka, Bangladesh, Nepal and Bhutan.
With over 500+ employees, Novozymes India has grown into an organization spread across three sites in Bangalore covering R&T, manufacturing, business functions and a shared service center. Some of the key business areas for Novozymes India are household care, textiles, food & beverages, oils & fats, baking and beverage alcohol.
We use science to advance industries. Novozymes invests nearly 14 percent of its global revenue in Research and Technology annually, with one of the key R&T facilities located in Bangalore.
Novozymes believes in positively contributing towards the sustainable future of the country. We work in close partnership with our customers and the global community to find biological answers for better lives in a growing world.
Ways you can get in touch with Novozymes India
Novozymes South Asia Private Limited
Call us at our number: +91 80 6903 3000
Write or visit our office: Plot No.32, 47-50, EPIP Area, Bangalore, Karnataka 560066, India
Synergia Life Sciences Private Limited
Call us at our number: +91 22 6266 9600
Write or visit our office: 6/312, Jogani Industrial Complex, V N    Purav Marg, Chunabhatti (East), Mumbai – 400 022, India
Riata Life Sciences Private Limited
Call us at our number: 02667-262020
Write or visit our office: 141-B, Tundav Raniya Road, Near Anjesar, Tundav, Savli, Guajarat 391780, India
Working for Novozymes India
Join us in pioneering a brighter future
Novozymes is the world leader in bioinnovation and the largest supplier of industrial enzymes and microorganisms in India, catering to the detergent, food, feed, textile, leather, oils & fats and beverage alcohol industries.
We work in close partnership with our customers and the global community to make an impact and help create a better world.
Take pride in a career to 'Rethink Tomorrow' and join us to work with customers, consumers, governments, academia and many other people to find sustainable answers that our world needs. We hire only the best, and our dynamic business offers plenty of opportunities to grow and develop your potential.
Novozymes India
India is an important region for Novozymes' future growth plans, with operations spread across three sites covering R&T, manufacturing, business functions and a shared service center. Novozymes is looking for the Indian office to support its global operations, from administration to management and research & development.
Are you the next Zymer on our team? Consider a career with Novozymes and let's unfold your potential together.
For students and graduates in India
Novozymes India wants to engage and interact with the thinkers of tomorrow. Therefore we seek to be in dialogue with key universities in our region and promote Biotechnology in the region. To achieve this objective, we recognize the need to encourage promising Biotechnology students by giving them an opportunity to participate and speak in the "Voice for BT" contest. This event is supported by the Association of Biotechnology Led Enterprises (ABLE) as a knowledge partner.
"Voice for BT" was initiated in 2012 and we have been conducting this event every year in various regions, in India. The event is conducted for the Biotechnology students from all the four regions in India. The first two winners from each region will participate in the Final event, which is typically held in a national Biotechnology event giving the students table their thoughts at a forum of experts from the industry. The finalists from 'voice for BT' contest are rewarded with cash prize and a 6-month internship at Novozymes India leading to potential full time career with us. Several such students have been hired for full time positions.
Interns
An internship at Novozymes India can help launch your career - you gain professional work experience and the chance to work with dedicated people.
Novozymes India regularly offers internships for different periods of time. They may be paid or unpaid, depending on the nature of the internship. Either way, we make sure that you get great learning and development while you are with us. Keep an eye out for the internships on our job website or check out events for case competitions.
How Novozymes works with universities in India
Novozymes gives high priority to having a good relationship with relevant universities, students and graduates in India. We want to engage with the brightest minds to discuss and learn from each other.
From time to time Novozymes India invites students and graduates to come and see our world and receive first-hand information on industrial biotechnology, enzymes and sustainability. Students and graduates get the opportunity to attend discussions and presentations on Novozymes, our solutions, sustainable practices, and performance.
Apart from the above, we also collaborate with key universities towards diverse research areas that serve to further advance our business and academic understanding of bioinnovation at its core. We are excited to continue our work with university partners.
Ready to create your own future?
Whether you're taking your first steps in your career or looking for the next challenge, Novozymes offers a thriving work environment.
We're ready to reimagine possibilities for a better world with you.