25.09.21 | Industrial
Industry trends: Maltose stays in the sweet spot
Why the market is still embracing maltose – and how producers can rise to the demand
Whether it's used in baking, brewing, soft drinks or frozen desserts, maltose syrup is a versatile sweetener and functional ingredient found in a variety of food & beverage products. Providing both taste and texture and consistent quality in the growing industrial food manufacturing, driven by consumer demands, it continues to grow in popularity. 
The modern benefits of maltose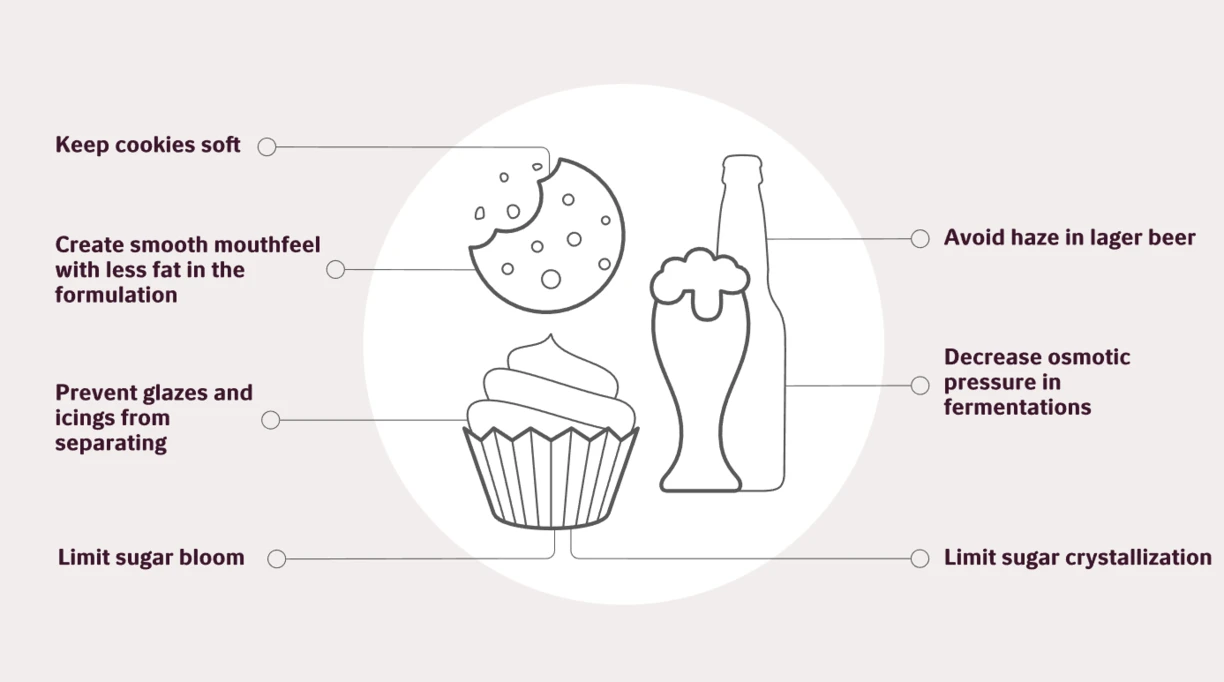 But maltose production is not without challenges. Plant operations in general are becoming more streamlined and automated, and producers are tasked with creating more sustainable products, in part by reducing chemicals, materials and transportation. The diversity and traditions of maltose production create additional challenges to implementing these developments. 
Let's look at some of the trends fueling the growth and change in this industry.
Increasing demand for foods featuring maltose
In developed markets the world over, people are consuming more baked products and confectionary, which often require functional sweeteners like high maltose syrups. North America and Europe are key regions supporting this trend.
Opportunities also exist in emerging markets, however. Consumers in areas like Southeast Asia and China find themselves with more disposable income and increasing Western influence, especially when it comes to food & beverage options. 
That adds up to an increase in the consumption – and production – of foods and beverages that require an ingredient like maltose. But why maltose? Why not an ingredient like fructose?
First of all, the taste and texture properties are different.
Secondly, consumers not only want to eat their cake – they want to have it, too. And in this case, that means they're looking to indulge in ways that satisfy their cravings and are both health-conscious and sustainable. 
In many regions such as North America, not all syrups are viewed as equally healthy by consumers. One such sweetener is high fructose corn syrup, which has become associated with an unhealthy lifestyle. Using maltose avoids that nutrition label issue. 
But while that stigma may exist in large part due to marketing, excessive use of fructose and glucose may result in physiologically ill effects, including liver disease. As maltose poses no such risks, an argument can be made that maltose is the safer alternative for human consumption.
Contact us to learn how enzymes enable you to tailor-make your syrups for specific applications.
Challenging times from a producer's perspective
Meanwhile, these and other trends are changing the way maltose syrup producers run their business, even as their processes become more streamlined and automated. 
First, we see that the global pandemic has resulted in a loss and migration of valuable employees. And with those employees, producers often lose a wealth of knowledge and competencies – competencies that can take years to develop. 
This has been compounded by the craftsmanship and diversity involved in maltose syrup production as compared to glucose and fructose syrups, which are much simpler in terms of product specifications and streamlined processes. 
As a result, many plants now see an increased need for technical service assistance and training.
Of course, these producers also want to increase the sustainability of their processes – not only to cater to consumer demands, but to optimize their operations while improving their carbon footprint. To do that, they're reducing their reliance on chemicals in favor of more sustainable solutions, including the next generation of process-enhancing enzymes.
Contact us to learn how thermostable enzyme products enable risk-free production of maltose syrups.
Making maltose syrup production easier
New advances in enzyme technology are helping maltose syrup producers reduce process complexity and costs while adapting to changing consumer demands.
Working across a wide range of application conditions, Maltera® Standard offers a trouble-free route to maltose production while reducing the risk of infection. This blend of two maltogenic amylases allows production of a consistent maltose syrup with good filtration properties and low viscosity. It also has twice the strength compared to the popular Fungamyl® when used at optimal conditions.
By using a biological solution in your maltose syrup production, you can give consumers the enhanced sustainability they've been asking for, while making your own process easier to manage and more cost effective. 
This latest innovation from Novozymes is complemented by our robust supply chain as well as global technical service and training, helping to alleviate the strain on the industry caused in part by the pandemic. And, with our wide product portfolio, you're sure to find the right solution to gain full control of the sugar spectrum in your maltose production.
What could this mean for your business? Fill in the form below and we'll be in touch